SpaceGuard – Advanced Envelope Control
Advanced Envelope Control and Rated Capacity Indicator for Rail
Road rail vehicles fitted with the 3RCI load control system outperformed conventional machines with sector-based slew, but GKD wanted more utilisation from 3RCI RRV's. With pressures on maintenance and renewals operations to complete works in shorter timescales or without line closure, SpaceGuard provides the solution.
SpaceGuard increases productivity by enabling the machine to be able to operate at all times even under live overhead wires (OLE) or next to open traffic lines (ALO). SpaceGuard is currently the only electronic safety system in use on the rail complying with UK requirements for live overhead wires and open traffic lines.
How it works
SpaceGuard provides extra benefits for road rail applications:
Full software control over the limits
Approved for use under live overhead wires and next to live rails. SpaceGuard allows overnight working without line closure this results in reduced costs for the rail operator and maximum utilization for the owner
The specification
To attain approval for working in close proximity to live overhead wires or adjacent open rails the 3RCI has been extensively enhanced to protect against system sensor malfunction, software inconsistency and electronic failures. To do this the system has the features listed below:
Direct drive angle sensors
Dual equipment angle sensors
Slew encoder
SpaceGuard main control unit
Dual processing verification
Pre-emptive stopping algorithms
Slow Down Zones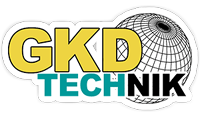 GKD design, develop and produce innovative machine control systems for protecting man and machine.
GKD's two product ranges, SensorZone and SensorSafe are sought after worldwide and are market leaders in the UK.
PROGRAMMING | ROBOTICS | MECHATRONICS