2HLE Advanced Height Limiting System
This advanced dual boom system is simple, accurate, cost effective height limiting system suitable for self-installation.
2HLE will protect workers from overhead danger when it is difficult to judge the actual height of the machine or the position of the booms from the cab.
Advanced Dual Boom System
The 2HLE is a more sophisticated height limiting system designed to monitor and control the operating height of multi-boom equipment.
2HLE Application
The 2HLE has been developed for use in the Construction and utility maintenance industries for use on machines such as excavators, wheel and backhoe loaders, telehandlers and other articulated machines operating in restricted conditions.
The 2HLE specification
Gravity referenced angle sensors are installed on each articulating boom and boom length
Dimensions are programmed on install Multiple motion cuts are applied to prevent height limit infringements by any part of the articulating boom structure
Boom movements away from the height limit are not affected
Accurate radius value to bucket pin provided
Dual sensing, Direct Drive sensors for applications requiring high performance levels(PL) or safety integrity levels (SIL)
A rail variant, the 2HLE-R is available for such high-performance applications for use on RRV's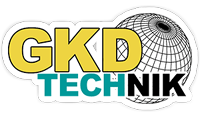 GKD design, develop and produce innovative machine control systems for protecting man and machine.
GKD's two product ranges, SensorZone and SensorSafe are sought after worldwide and are market leaders in the UK.
PROGRAMMING | ROBOTICS | MECHATRONICS