John M. Vranish
Electrical Engineer Emeritus | Goddard Space Flight Center
John Vranish has lead an interesting and exciting career an as engineer in the robotics and space industries. Never one to shy away from being at the forefront of development, Mr. Vranish has been an integral robotics researcher at the Naval Surface Weapons Center, the National Bureau Standards and the Goddard Space Flight Center. Mr. Vranish creates simple, innovative and competitive edge systems and strategic components and has the most patents in the history of NASA/Goddard Space Flight Center. He has 20 years of experience with NASA as a civil servant, In 2006, Mr. Vranish expanded into his latest venture, opening his own company. He currently serves as the president of Vranish Innovative Technologies, L.L.C.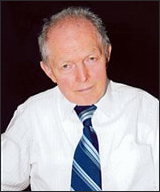 John got his start in this field by earning a Bachelor of Science from the United States Military Academy, West Point in 1962. He continued at George Washington University to earn a MSEE in 1973. From 1962 to 1970, Mr. Vranish served as a Captain in the US Army. He is also a member of the Robotics International of Society Manufacturing Engineers.
He has recently been nominated by the NASA/Goddard Space Flight Center to the National Inventor's Hall of Fame for consideration as a 2019 inductee. This honor, along with many others he has received throughout the course of his career, is a testament to his hard work and ingenuity.
People often ask John about his approach to things. If there's a tough problem, we need to get outside the box and think of an innovative approach that will work. We'll dig in and find a way to do it. In the end, it has to be on budget and on time, but it also has to be superior. It has to work as required and at all costs not fail.