Councils throughout Australia are quickly adopting the latest technology in pedestrian detection and embracing artificial intelligence on a range of mobile machinery interacting with pedestrians, ranging from street sweeper trucks through to earthmoving equipment.
The risk of injury and near misses for workers around mobile plant and machinery is always a concern for councils and particularly where separation of people and plant is not possible. To date, most hazard prevention technologies have involved a tag-based system or administrative controls which are not always the most comprehensive solution to dynamic environments.
Working in real-time, the Sentinel Vision AI system incorporates multiple cameras, which are mounted to mobile machines such as wheel loaders, excavators, street sweepers and on-track vehicles with as many or as few cameras installed as needed to cover blind spots and assists the operator in identifying people around the
machine.
Sentinel Vision AI is the first pedestrian detection system to alert both the operator and pedestrian. This innovation has been found to cause long-term behavioural change in pedestrians working around mobile plant and machinery. Sentinel Vision AI uses a unique voice alarm system to 'talk' to the pedestrian, cutting through
the beeps and buzzes that workers hear on sites every day.
Sentinel Vision AI, over time will be activated less—as people learn not to walk in front or behind active vehicles, reducing the risk of accidents and injuries. This has already happened on a number of work sites.
Developed over three years by an in-house team of Brisbane-based engineers, PRM Engineering Services have produced the Sentinel Vision AI pedestrian detection system, for the specific safety requirements of rail, waste, infrastructure and construction industries. The system uses the latest in artificial intelligence and pedestrian
recognition in order to detect when a pedestrian is in a machine's blind spots or enters hazardous zones near mobile
machinery, warning both the operator and the pedestrian.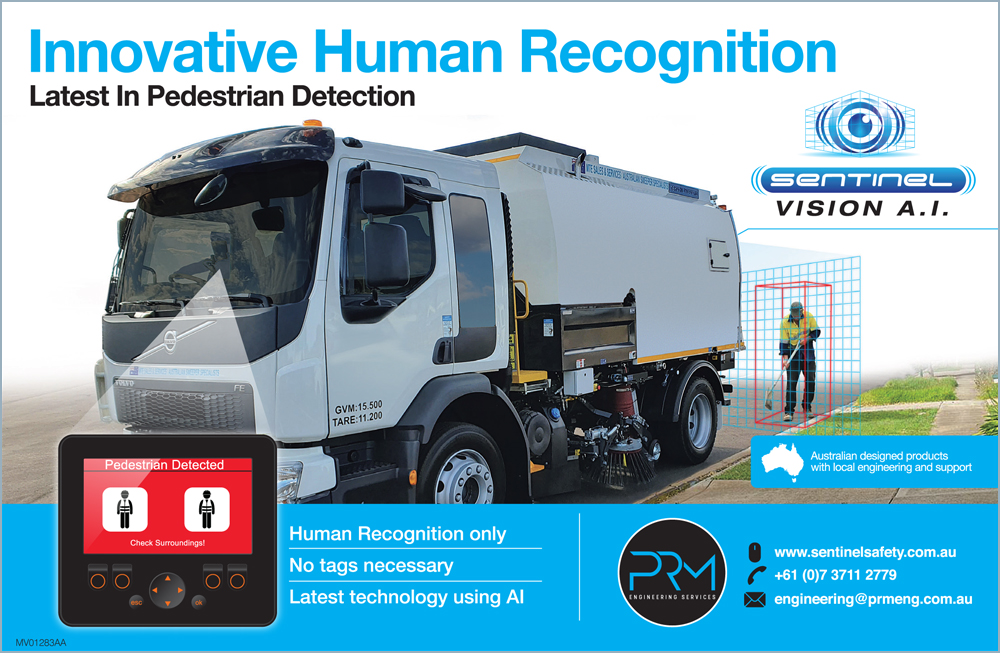 Acknowledgement: The above articles appeared in an edition of the Council Leader, Spring 2021